The headline pretty much sums it up, but when I need to make a quick and healthy meal for us, this is our new go-to-meal!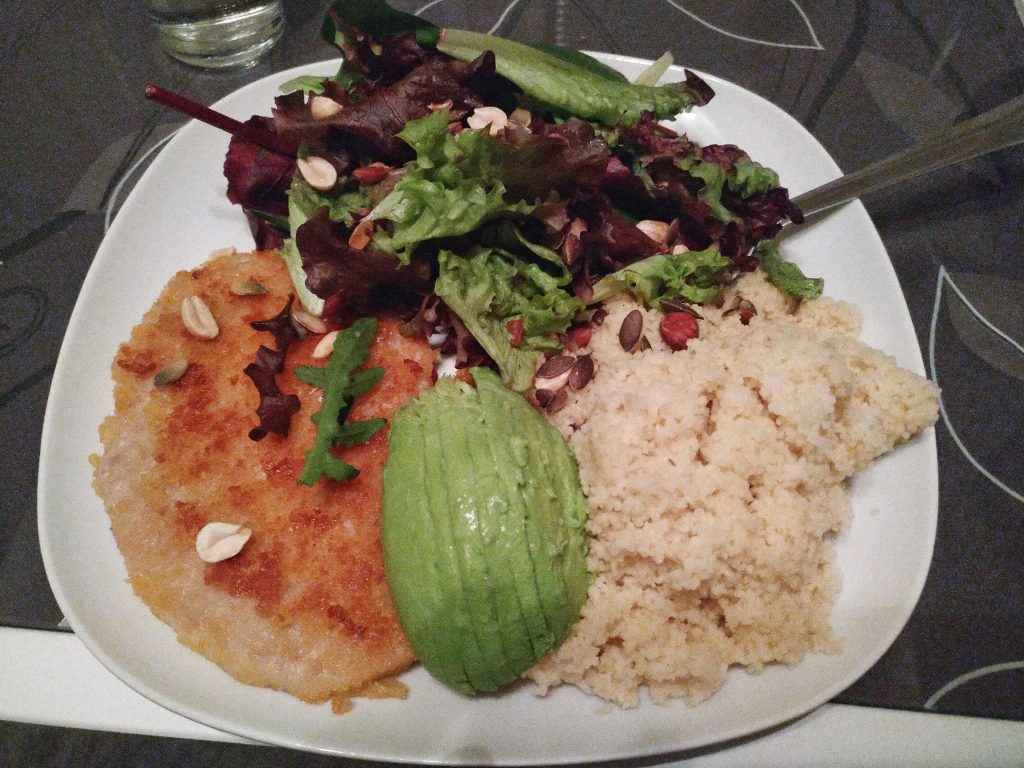 Because I'm lazy about making food, I buy:
one pack of pre-washed salad (ruccola, spinach and red baby leaf)
one avocado, sliced
two cheese-schnitzels (can be skipped)
2 dl couscous (follow the instructions on the package)
nuts, seeds and berries
I usually use a premade mix that contains pumpkin, sunflower and flax seeds, peanuts or cashew nuts. Chia seeds is also nice, but I would prefer them in a drink like Iskiate http://www.themevik.com/2016/04/iskiate-recipe/
For berries, I like cranberries and Gojiberries! They taste awesome with the fat avocado and salty schnitzel. Also, couscous and avocado is a surprisingly good mix!
To prepare the dish, just prepare the couscous as instructed on the package. Add a bit of chilli powder if you want to. While it swells, fry the schnitzels on the frying pan for about 4 minutes on each side or until they are thoroughly heated. Cut the avocado in half, then slice it before you peel it.
When the schnitzels and couscous are done, put them on the plate, then add avocado and salad (lots of salad) and sprinkle whit nuts, seeds and berries!
If you don't want to eat meat, just remove it to make it vegan! This dish tastes awesome without the schnitzel as well!
Freaking awesome, and really fast!