Rollabolla is one of the simplest training devices for balance I've ever tried (except for fences and stones). It's simply a board and a pipe.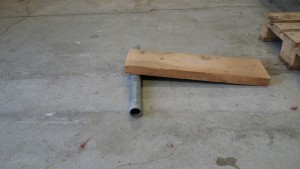 You simply place the board on the pipe, stand on top of it and try to balance while the pipe tries to roll under the board.
Start with your feet about a shoulder width apart, and make it increasingly difficult by putting your feet closer together on the board. If you're the adventurous type you can try doing a handstand on it or putting two on top of each other.
Have you tried this or do you have other ideas on how to use it? Please let us know in the comment section below!